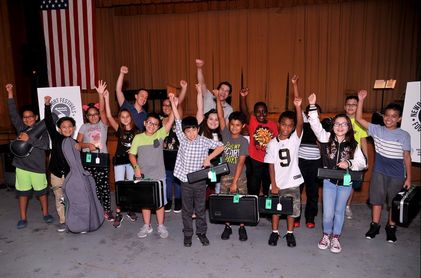 Gladstone Elementary School students celebrate their new instruments with their music teacher, Jonathan Cox, and Ben Marcoux, Newport Jazz Assembly band leader (Back Row). Photo by Jack Casey
NEWPORT, RI, October 4, 2017 – Sixteen music students at Gladstone Elementary School in Cranston were smiling brightly when Newport Festivals Foundation, Inc., which produces the Newport Jazz Festival® and Newport Folk Festival®, brought the gift of music – one cello plus three violins, violas, clarinets, trumpets and flutes – to the school auditorium on Thursday, September 28.

"Newport Festivals Foundation, Inc. strives to educate young people about the music of its famous festivals. Part of that education includes offering students the opportunity to experience making music," said Deborah Ross, the Foundation's Director of Education. "We are happy to work with local public schools, who still have music programs, to give kids the chance to express themselves in ways that complement reading, writing and arithmetic."